Attorney Geoff Newman
Defense Lawyer and Former Prosecutor
Attorney Geoff Newman has been practicing criminal law in San Bernardino County since 1996. He has experience both as a prosecutor and as a defense lawyer, giving him the knowledge of criminal cases from both sides of the courtroom. This means he has a deep knowledge of the laws and the courts, and he can help you devise a solid legal defense for your case.
Helping You Through Serious Accusations
While all criminal accusations or arrests can be stressful and emotionally devastating, significant charges require the attention of a skilled lawyer. Having Attorney Newman on your side can be the difference between having a voice in court and facing a judge alone.
Over the years, our attorney has had his hands on just about every type of case imaginable, including:
Murders
Major wiretaps
Political corruption
Complex white collar crime cases
Everything in between
Attorney Newman Works for You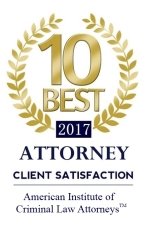 Long before you are arrested, there are steps which can be taken to begin your defense, and we work hard to make sure your rights are protected. Attorney Newman knows what motions to file and how to use them to your advantage. More importantly, our Rancho Cucamonga criminal defense lawyer knows when not to file a motion. This experience makes a huge difference.
At Newman & Allen, Attorney Newman and his team love trial. There is no other aspect to our role as criminal defense lawyers that is quite as rewarding as jury trial. This is where our firm and its leadership stands above the rest. We are regarded as one of the top trial attorneys in the area.
Contact us today at (909) 328-6101 to speak to Attorney Geoff Newman about your case. We offer free initial consultations.
Stay Connected with Newman & Allen!